Fievel's American Tails
Genre
Action/Adventure
Format
Animated Series
Created by
David Kirschner
Directed by
Larry Jacobs
Starring
Phillip Glasser
Dom DeLuise
Susan Silo
Lloyd Battista
Cathy Cavadini
Dan Castellaneta
Country of Origin
United States
Canada
Language(s)
English
No. of Seasons
1
No. of Episodes
13 (List of Episodes)
Production
Executive Producer(s)
Steven Spielberg
Running Time
22 minutes (approx.)
Production Company(s)
Amblimation
Nelvana
Universal Cartoon Studios
Broadcast
Original Channel
CBS
First Shown
1992
Original Run
September 12, 1992 – December 5, 1992
Status
Ended
Wiki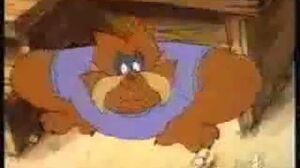 Fievel's American Tails
is an American/Canadian animated series, produced by Steven Spielberg's Amblimation, Nelvana, and Universal Cartoon Studios. The series aired for one season in 1992 on
CBS
, and continued Fievel's adventures from the 1991 animated film
An American Tail: Fievel Goes West
.
Don Bluth, the director of the original American Tail film, had no involvement with the series. Phillip Glasser and Dom DeLuise were the only two actors from the original film to reprise their roles, as Fievel and Tiger respectively. However, Cathy Cavadini did reprise her role as Tanya, whom she voiced in the second film.
Fievel, along with his mother, his Yiddish-speaking father, and sisters Tanya and Yasha, live in the American frontier town of Green River in a mouse-made city under the humans' General Store. Fievel is learning to become a cowboy as he also tries to avoid the wrath and stomach of the shady, monocle-wearing Cat R. Waul, who, along with his naive sidekicks Chula the tarantula and Sweet William, set up shop at the Morton Walton Funerals Building. Fievel had some assistance from Tiger the Cat, his occasionally bashful feline friend, who always kept an eye on the tiny mouse.
Characters
Edit
Fievel Mousekewitz (voiced by Phillip Glasser) — The main character of the series.
Tiger (voiced by Dom DeLuise) — A bushy-tailed orange cat that acts as Fievel's loyal companion.
Papa Mousekewitz (voiced by Lloyd Battista) — Fievel's father
Mama Mousekewitz (voiced by Susan Silo) — Fievel's mother
Tanya Mousekewitz (voiced by Cathy Cavadini) — Fievel's older sister
Yasha Mousekewitz (voiced by Cathy Cavadini) — Fievel's baby sister
Cat R. Waul (voiced by Gerrit Graham) — The main antagonist of the series.
Fievel's American Tails has a total of 13 episodes contained in 1 season that were produced from September 1992 to December 1992.
Ad blocker interference detected!
Wikia is a free-to-use site that makes money from advertising. We have a modified experience for viewers using ad blockers

Wikia is not accessible if you've made further modifications. Remove the custom ad blocker rule(s) and the page will load as expected.